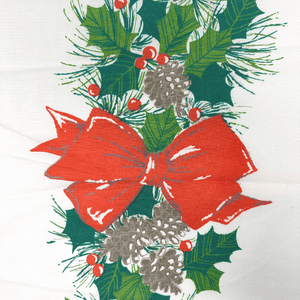 This Red Bows & Holly Pine is from the 1960's.  
Cotton broadcloth fabric with a very tight weave, this textile was originally the design element around the edges of a Christmas Tablecloth.
In excellent condition.
Measuring 18"x70"
The design itself is 11" with a white border on either side.
Price listed is for entire piece.  Three pieces available.
12" cuts available upon request. 
Cut will be 18" x 12"
$10 per cut.  Please email me at marythecuriouscowgirl@gmail.com
Please allow two weeks for delivery!