Collection:

Travel Guides: The New York City Collection
The Curious Cowgirl's Guide to the Big Apple—From the Brooklyn Bridge to Lady Liberty.
The Curious Cowgirl's Curated Travel Guides to New York City's most spectacular sites, points of interest, museums, amazing restaurants and the best shopping neighborhoods.

Through my curated travel guides, Rome will come alive, so you can enjoy the trip of a lifetime!.
Spending countless hours researching, coming web sites, reading guide books, asking friends...it can all feel so overwhelming when you are trying to plan the perfect vacation.
You want to maximize your time...
You want to spend your money wisely...
And you want to enjoy yourself once there!
The Curious Cowgirl Travel Guides are deeply researched, well-organized, and thoughtfully curated.
Today, as an Empty Nester who enjoys luxury travel, with practicality in mind, I travel relentlessly, and fall even more deeply in love with these cities with each visit.
And friends…I want to take you with me, every step of the way!
Each and every recommendation has been personally researched and vetted by me, with YOU in mind!
NYC Restaurant Guide
FREE: How to Choose the Perfect Hotel in the Right Neighborhood for Your NYC Vacation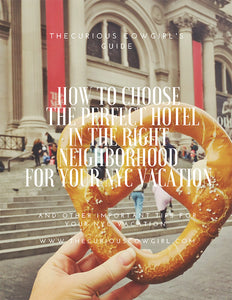 Celebrate Christmas with Kids in NYC....and Jingle All the Way!