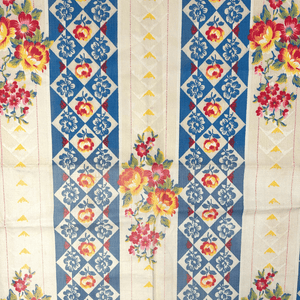 This Wide Blue Stripes & Roses textile is early 20th Century ticking, and incredibly rare.  
Cotton fabric with tight weave, sturdy, as it was manufactured to cover mattresses and pillows.
In excellent condition.  However, there are patches of slight fading, which give an ombre effect to the area.
Measuring 32"x54"
Price listed is for entire piece.  
12" cuts available upon request. 
Cut will be 32" x 12"
$45 per cut.  Please email me at marythecuriouscowgirl@gmail.com